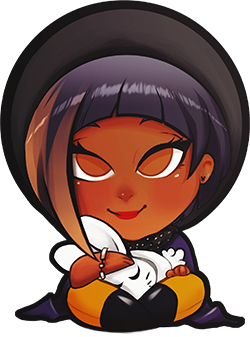 24 | Canada | Contact: info@monobun.com
Hello there! Thank you for paying my little site a visit.
I'm a digital illustrator residing in Canada who likes to draw things, is obsessed with bunnies, and plays too many video games! I've been drawing for as long as I can remember, and the passion was only fueled further by the fact that my two sisters are artists as well. Our parents don't have an artistic bone in their bodies, yet somehow we ended up with the talent!
We played a lot of video games and watched cartoons as kids; these really helped to shape my imagination and drive me to create my own characters and stories by drawing them. I started to take digital art seriously around the time I was in junior high; our computer had a basic Corel Draw program on it that I practiced from. Eventually, I moved on to Photoshop, and I've stuck with it ever since.
I studied New Media Production and Design in Post-Secondary, and this led to me beginning a career in Graphic Design and Web Development. One day I would like to branch off and become a full-time digital illustrator.
You can read about my tools and process in my FAQ section! 🙂
---
Printed Work List:
Here are some of the printed books/zines I've participated in!